---
Australian Cars For Sale
Lotus Esprit Australia will provide advertising space for parts or vehicles for sale to all Australian ESPRIT owners. If you like to advertise with LEA please send us an e-mail with your vehicle description including two photos and your contact details.

Please contact our team for further infomation .

---

1988 PETER STEVENS X180 ESPRIT TURBO

516


PRESERVED ORIGINAL MAINTAINED TO BOOk.

STUNNING PEARL WHITE WITH BLUE LEATHER

THE VEHICLE IS A LOCAL AUS DELIVERY WITH 33K WHICH I HAVE OWNED FOR 26 YEARS.

A MOST SUPERIOR CAR WITH MAJOR SEVICE WORK DONE BY STEVE TAYLOR.

PROBABLY THE BEST OF THIS MODEL AVAILABLE ANYWHERE.

Price: $84000 PHONE BRIAN BH 03 6328 1669


---

For Sale: 1990 Lotus Esprit SE VIC




I have owned and meticulously maintained and improved on this esprit for the last 9 years and have loved driving it (mainly on weekends). It is a normally aspirated 4 cylinder, running perfectly and recently serviced by Steve Taylor at Lotus Marquise. Body is in great condition with newly fitted 94 model bumper, interior is immaculate, great JVC sound system with cd/dvd player, glass removable sunroof and much more, loads of receipts. I also still have the original wheels and bumper and lights. I have fixed all the usual esprit problems, rusted fuel tanks, rebuilt elec window motors and rebuilt the engine, inspections will not disappoint, selling due to expanding family otherwise I'd keep it. A beautiful and easily maintainable car and certainly one of the finest examples of its year.
56,755 kms



---

For Sale: 1984 S3 Lotus Esprit Turbo

VIN:SCC082910EHD11652
Engine Number: CC910831221232
Registration Number: MDW-056
Registration State: NSW
Registration Information :02/2014
Kilometres: 100,050

Privately imported & Blue slipped/registered 2011. Current NSW rego. Previous full off-body respray & motor rebuild in UK -all original BBS wheels. Interior immaculate. Mechanically well tuned & runs brilliantly. Great opportunity to obtain an appreciating asset - 1st time offered for sale in Australia. Documented receipts & history on file.




---

1988 Lotus Esprit Turbo (NT)
has less than 17000 miles, was part of a museum collection for nearly 13 years. I bought it in the UK, used it there as a daily driver then shipped to Aus late last year.
Since I have owned has been subject to the following within the last 10 months (and less than 1000 miles). Wheels refurbed in Reflex Charcoal, new rubber all around.
Stainless sports back box fitted, new HT leads, All timing belts and fluids changed (the big service) new battery, New mats, interior restored, two new custom alloy fuels tanks fitted with all fuel ancillaries and new seating,New custom alloy header tank, engine repainted, New fuel pump, new clutch master, slave and lines (now all braided and completely restored original Master/ slave), new engine rubber seals, rear windows taken out/ refurbed and all seals replaced with better fitting parts, plus lots more I have likely forgotten.
Prior to this fully resprayed in Lamboughini Orange and upgraded body to the later V8 style with an SE rear spoiler. all electrics work and a fair few kg lighter than standard.



---

1996 Lotus Esprit V8 Mark 1 (SA)

Over the past 4-years this car has undergone a ground up restoration with no expense spared; virtually every mechanical component has been either replaced with new OEM parts or rebuilt.
Complete engine re-build: including new pistons/liners, new balanced crankshaft, Bearings, timing chain, oil pump, water pump, starter motor, valves, overhauled fuel injection etc. Complete Gearbox Rebuild Inc. Synchros, Crown wheel, Pinion & new AP Racing twin plate clutch. New Radiator, Oil coolers & AC Condenser's. New Bilsten suspension all round. New High performance Wilwood brakes all round (6 pot callipers). Custom Stainless system exhaust. $13k - (Bare shell) re-spray - original factory colour. Carbon fibre accents. Alpine premium sound system with Blue tooth hands free + iPod connectivity. Plus much more!





---

Lotus Esprit S4 1998 50th Anniversary 300 HP Special Vehicle

This is our own LEA's special Lotus S4 vehicle with 38K on the clock single owner as it have been featured on this website for many years with full history books available. Please see link for some of many improvments our special vehicle received during it's life. It comes with 25K spare parts and diagnostics gear. If you are keen for this type of vehicle contact us direct




---

Up for sale is this fastidiously maintained Pearlescent White 1989 Lotus Esprit with nothing to spend. The car is flawless. 49,000 miles, impeccable red leather, stone chips you can count on one hand, rebuilt turbo seals and bearings, kept in dehumidified heated garage. You will not find me to be in any rush to sell, I only advertise it now as they take some time to sell, being an enthusiast vehicle. You will not find this on carpoint or carsales nor will you ever. I shall simply not allow a non-lotus enthusiast to buy this vehicle. There are too few of them left.




---

Lotus Esprit 300 Sport VIC

Two owners with 95000 Kms. on the clock. 1000kms since last service, New timing belt, new tyres, Rego till Mar 2011. Any further details required please contact me.

---




1988 LOTUS ESPRIT

130,000 klm on the clock , blue and grey white
5 speed Manual, 2 door 2 seat COUPE, 4 cylinder Unleaded Turbo 2.2L (2174cc)Very rare. No Leaks. gorgeous looking car. 11 months rego
---
Lotus Esprit GT3

Has the later dash. Leather in good condition, AC works well. Big C service done 1000km ago,
later style dash ,new tires, Red race chip (P.U.K.), upgraded intercooler, K&N High Flow Air Filters, Air ram, Iridium plugs, new brakes, new clutch, High Flow Catalyst with 200 cells from braided clutch line, Wheel Spacers P.U.K., SS Exhaust, 10k of receipts

---

1996 Esprit V8 - QLD

This car is in immaculate original condition and has only traveled 33,490kms from new. It has a FSH and the last major service was 3,000km ago which included, Cam belts- ancillary belts, All Fluids & ALL Filters. It has all factory extras including driver's airbag & glass roof as well 3 piece OZ wheels on Pirelli P Zero tyres. This car will not disappoint.

---

1988 Esprit turbo (British import) NSW
Previous owned by a doctor in England and brought the car with him when he moved to Australia.
Before the car was brought over here, over 7000 pounds had spent on the car.
I have spent over $7k on this car the last 6 months.
Engine had been rebuilt with extra power, new steering rack, brake overhaul, new tyres, 16" Lotus wheels spoiler, rebuilt air conditioning, remote central locking, engineering certificate, nsw rego to Mar 2011, 63000 miles
everything works on this car, new paint job, not the best job but I rate 8.5/10




---

1998 Esprit V8GT South Australia

25500mile (41000Klm) My car for over 7 years (import from UK in 2005)

Later dash model, Black Leather, Air Con, Rear Wing, Alpine sound with iPod Control

Recent replaced - Timing belt, Tyres, Clutch, Magnecor leads

Upgrades - High Flow Cats, SS exhaust, K&N High flow Air, Red Race ECU (PUK), SSBOV, Brakes turbo groove disc with ebc pads, poly bushes
Driven rarely - still ear to ear smile when driven after 7yrs - regrettable sale



---

1983 S3 Turbo Esprit QLD

Brought from the UK in 98, having spent 3 years under cover in Germany.
This car starts first turn of the key, although not driven, its regulary started, the car is totally straight, electrically and mechanically sound and the trim is good.
The down side on this car is the paint, we paid for a good job but the guy did not put it in the oven, it looked great when we got it back with all new decals etc. at about 12 months later we noticed crazing but the painter had gone with at least 5 other unhappy customers, hence as we had done everything else we decided not to repaint and that could be left to the new owner to do.

Due to the car being sold unregistered although it had been registered in Qld and the condition of the paint ( the spot on the front bumper is where just caught it with a trailer), the pricing reflects this.




---

1997 LOTUS ESPRIT V8

True Supercar...0-100 in 4.9 secs, but so very tractable, quiet and easy to drive. Absolutely immaculate, has been in a private car collection for the last 2 years. Australian (Victorian) delivered with full service history and no expense spared. It has new tyres and will have full 12 months Vic reg. THE PRICE IS REDUCED THIS WEEKEND FOR A QUICK SALE. Be quick, this is a stunning car, it is well worth a look at.
---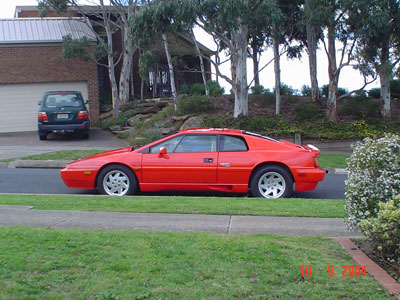 Esprit X180 - VIC
Maintained regardless of cost, it has recently had a complete engine and gearbox overhaul, and the full leather interior has been completely refurbished. The car has a sports exhaust system (sounds great) but otherwise is completely standard. It is one of the first of the X180 / Stevens bodied Esprit Turbo's; a real Supercar. It has been my weekend toy for a couple of years and has brought much pleasure, and now it's time to move on.

---
1980 LOTUS ESPRIT S2 - VIC

VIN 5CC085912BHD11074
First delivered in Sussex UK in 1981, this Esprit Coupe is supported by original delivery books and service history.
Some ten years ago, the car was personally imported to Australia and the owner commenced serious Performance / Handling Upgrades including: TOTAL ENGINE REBUILD ? Gas Flowed Head, Ceramic Coated Pistons, Combustion Chambers, Exhaust, Ivan Tighe Cams and Dyno Report awaits your inspection. FUEL / COMPUTER ? Motec Throttle Bodies, Autronic Computer System. SUSPENSION ? Bilstien ? Eibach Suspension
(Fully Adjustable). PLUS LOTS MORE ? Detailed receipt and history files await your inspection. Since arriving in Australia the car has travelled only 7,100kms. Excellent on-road performance and handling will delight the enthusiast. With RWC and Registration to January 2008.


---

Lotus Esprit V8 - VIC

Has had Recaro race seats fitted and Momo sports steering wheel.Upgraded, fully adjustable springs and dampers from Germany. Upgraded Willwood brakes - 6 spot front, 4 spot rear.

Engine now produces 575 Horsepower due to:
O-ringed block
Forged pistons
Red Race ECU
High flow roller ball bearing T25/T28 turbos
Custom made intercooler kit

Gearbox has been upgraded with single shaft gear with straight cut 1st gear and hardened 2nd gear. Entire gearbox assembly has been cryogenically frozen for hardening and strength.Diff has been upgraded to Quaiffe limited slip diff with higher ratio crown and pinion. Entire diff assembly has also been cryogenically frozen for hardening and strength. Exhaust is now a straight through unit with 2 small high flow cats.Rear tyres are now 315/35/18 to keep the power on the ground. Wheels have been polished to a nickel plate look for effect. Stereo has been upgraded to a 6 stack Panasonic CD unit with Kenwood amp. Total of 8 speakers now operate within the cabin.

---

LOTUS ESPRIT S2 - QLD

Kilometres 35,000
Body 2 door Coupe
Colour red
Interior Colour brown/black
Transmission 5 speed Manual
Engine 4 cylinder Petrol Carburettor 2.2L (2170cc)


Lotus Esprit S2. Built 1980, First sold in 1982, Australian Delivered car. 2.0L motor. Black-badge model. This car has been well looked after and is in very good unmolested original condition.

Common Esprit issues have been dealt with - braided clutch line, custom-made engine mounts that don't fail, electrics work. Cam belt changed 4000km ago. Includes large quantity of spare parts, manuals and a complete spare motor in pieces. Personalised Plates included with sale if purchaser desires.

---

1979 LOTUS ESPRIT S2 - WA

Kilometres 100,000
Body 2 door Coupe
Colour Red
Interior Colour Black
Transmission 5 speed Manual
Engine 4 cylinder Petrol Carburettor 2.2L (2170cc)
Road Worthy Certificate Not Applicable
This car has had 3 owners including myself. I bought it in 2003 from Dave Sullivan who had owned it for some 20 years. Dave was a well known racing driver in Perth and also had an Elan +2. In the past 6 years the car has had less than 1,000 kms of use being garaged by Dave and myself. I have had over $8,000 of work done on it by Sports Car Garage Welshpool, Perth including an upgrade to the cooling system making it more efficient.


---


Vehicle 1985 LOTUS ESPRIT S3 - WA
Kilometres 38,000
Body Coupe
Colour white
Interior Colour tan
Transmission 5 speed Manual
Engine 4 cylinder Petrol 2.2L (2174cc)
Reg Plate WA.1157
Reg Expire JUN-2008
Engine No 1983 no turbo

All leather interior tidy and clean new timing belt and new clutch new tires with invoices

---

LOTUS ESPRIT S4 - NSW
Year :: 1997
Mileage:: 54k

Non Standard alloy wheels, Tracker, alarm and immobiliser, CD player, Full service history. One of the best examples on the road of this very rare British Sports car. This has been my daily driver for over 3 years with no major problems and garaged daily. The car is fitted with a tracker system for complete security. It is a very reluctant sale. Serious enquiries only please.

---

LOTUS ESPRIT SE - Tasmania
Year :: 1990

Details: The car has 41,296 miles on the clock. It is registered until 27/11/08 (Tasmania). Tyres are near new Potenzas. Car is in standard spec. Receipts available for work done. Extra pics are available, including of reconditioned engine prior to reinstallation in the car. I bought the car before ever driving one, then found that my legs are too long to comfortably (or safely) drive it! That is my main reason for selling it.

Will refund one-way airfare to interstate purchaser (by prior arrangement).

---

LOTUS ESPRIT Turbo 1988 WA

Details: air-con, elec windows, stainless exhaust, 16" rims new tyres, recent cam belt
the car was imported from the UK after about 3 years and I purchased the car from that owner, and have now had the car for over 11 years. the car has covered 82,000 miles has had regular service with lotus parts, and is all standard. it had new ball joints 3 years ago and a clutch about 5. the paint is good with very minor stone chips, the windows are all tinted and no scratches .
I have for the car a new set of lotus front shocks, and a new pair of adjustables for the rear these are not on the car yet.

The car is great I love it it does everything it should goes round corners, out accelerates most
and the yellow duco with white leather, it turns more heads than BRAD PITT on a nudist beach
But most of all this car has never let me down. And I don't care what people say look after it and use proper parts. These cars are great if you don't like mine buy someone else's!!! JUST BUY ONE.
it can sit in the garage for six months! turn the key and she goes I would not sell it still but have an
ankle problem which will eventually put me into a poxy auto
Attention required . the electric mirrors are sticky ( but haven't moved much in 11 years )
driver side window is slow to go up
door locks are sticky ( I have never locked the car up, no one bothers with it, they just look. )
drivers side door panel where your elbow rests you can see the brown leather showing.
generally the car needs a new owner with a bit of enthusiasm a good spring clean would do it wonders
I can also assist with interstate transport if nec





---

Lotus Esprit QLD


Probably the best of the four cylinder Esprits, this Special Equipment model was imported from the UK in November '06 with 39,000 miles on the clock (now 44,000) with full service history and original invoice. Stock standard other than an upgraded gear translator and a braided clutch hose, the car has since been serviced by Maranello Motors here on the Gold Coast and is in pristine all round condition."




---

Lotus Esprit V8 NSW


I have owned this car for 12 years as it was only 5 months old when purchased. Finished in Assure blue with full tan leather and blue piping. OZ split rims with new Michelin Pilot Sport tyres. All the extras and drives like new. Ridiculously quick. Just imported into Australia and comes with 12 months registration.
A real headturner wherever she goes with all the service history, bills since new and covered 70k kms. See pictures.





---

Sport 350 1999 Twin Turbo V8 - NSW
Space issues associated with the addition of a new baby forces this very regrettable sale!
Rarely driven but much loved and immaculately maintained.
This car is build number 14 of only 50 of this model which is renowned as the most extreme and expensive Esprit ever built. Superb performance and handling! This is the only example of this model in Australia and is in as new condition.
All the usual Sport 350 extras inc Magnesium Wheels with 295/35/18 tyres on the rear, Alcantara sports interior, AP racing braking system with ABS, Genuine Carbon Fibre on the dash surrounds and rear spoiler.
Only 29000 km's, Air Con, Factory Alarm, Pop up roof, Alpine sound system with CD stacker, New tyres all round, Just had major service including new rear brake pads, K&N filters, and all fluids.





Designed by Internet Design Group ©2007